National 4-H Week
For the 75th conse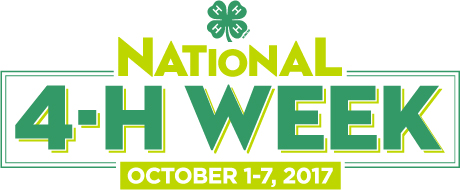 cutive year, millions of youth, parents, volunteers and alumni across the country will be celebrating National 4-H Week during the first full week of October. North Carolina 4-H will leverage National 4-H Week this year by showcasing the incredible experiences that 4-H offers young people, and will highlight the remarkable 4-H youth in our community who work each day to make a positive impact on those around them.
4-H alumni around the country are always the first to acknowledge the significant positive impact 4-H had on them as young people; the opportunities and experiences that 4-H provides youth empowers them to become true leaders. In fact, research has shown that young people in 4-H are almost four times as likely to contribute to their communities, and are twice as likely to engage in Science, Technology, Engineering and Math (STEM) programs in their free time.
North Carolina 4-H has 247,344 youth involved in 4-H Clubs, Special Interest programs, School Enrichment programs, 4-H Day Camps, and 4-H Residential Camps. These programs are managed by the best Extension 4-H Professionals as well as 20,036 youth and adult volunteers.
To see more about our program accomplishments click here:
To get more involved in your county program click on: Join 4-H